As a STEAM educator, I am passionate about putting technology into the hands of students but I want to do it thoughtfully. I want to give my students tech that is useful and leads to meaningful learning experiences. Here are some of my favorite apps for my classroom. All of them can be used individually or in groups, thereby enhancing collaboration and allowing for their use in classrooms that have fewer devices than students.
CANVAS
Canvas is a powerful learning management system can be an asset for many classroom teachers. Canvas can be used as a classroom website and as a communication tool between teacher and students. With Canvas, teachers can create and assign classwork and quizzes. Teachers can manage multiple classes at one time. Canvas even allows teachers to copy content from one class to another. Parents can create accounts and get updates on their child's progress, as well as communicate with the classroom teacher.
Affordances: With a little website experience, Canvas is easy to customize. Many teachers have already shared what they have made, and those resources are available in the Canvas Commons. An individual teacher can use Canvas for free by creating their class from scratch.
Constraints: Some teachers may find it difficult to create a class from scratch, and Canvas' example class is only available with a two-week trial. However, Canvas offers several online lessons on how to use its features. Canvas is cloud-based, so it may be a challenge to use in areas where Wifi is spotty.
Evernote
One of my favorite teacher tools is Evernote. I use it almost daily to organize ideas and resources for school and home. Students can easily work with it, too. Evernote is an organization tool that let you carry an entire file room on your device. Each digital note is organized into a notebook, and you can organize even more by putting notebooks in stacks. Evernote lets you jot quick notes to yourself, make lists, upload photos or videos, take photos live, bookmark websites, store PDFs,  and even scan documents. Using the  Evernote web clipper, you can save your favorite websites for later. Whether you want to save a whole article, a bookmark, or just a screenshot, Evernote lets you do it all.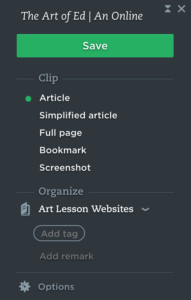 Affordances: Information in Evernote syncs across devices, everything is searchable, and there is not a limit to how much you can store. Evernote is available as an app download or through the web.
Constraints: With the free version, you have a monthly upload limit of 60 MB, and can download the app on only two devices. However, you can log in to the web app if you're using a device that doesn't have Evernote installed, and there are paid versions if you want to have the ability to upload more data per month or install it on more devices.
Hopscotch
One of the best ways to help students learn computational thinking and problem-solving skills is through programming. With Hopscotch, students can learn to code while making drawings, games, websites, and patterns. The focus is not on learning a programming language, but on learning the logic behind the code. Its colorful interface and fun design make it appealing, even to students who might not have an immediate interest in learning to code. It is easy to get started with Hopscotch, and there are lots of fun and interactive video lessons for users to follow along with.
Affordances: Hopscotch is free, but users who want to support Hopscotch's development, customize their user profiles, or create custom characters can subscribe to the paid version. Students log in using a unique username and password, so their work can be protected, even on shared devices.
Constraints: The Hopscotch app is only available for iOS devices, including iPhone, iPad, and iPod touch. If students change or forget their password, password recovery is possible but time-consuming. One workaround is to keep a master list of all usernames and passwords.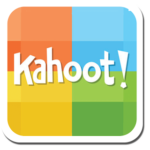 Kahoot!
Teachers know that formative assessment is critical in knowing how to proceed with a lesson. Kahoot! makes assessment fun for students by taking a gaming approach. There are lots of ways to play Kahoot!, from finding out students' prior knowledge to reinforcing concepts, and it can be done individually or in groups. With Kahoot!, teachers can choose whether or not to award points. Kahoots! are easy to create, but because lots of other teachers already use Kahoot!, it is easy to find and customize a game that someone else has already created.
Affordances:  Kahoot! is fun for all ages, but easy for even the youngest students to use. It can be played online or on an app for Apple or Android mobile device. Students may feel more comfortable answering questions on a device than in person, and the results of the Kahoot! can be exported to review later.
Constraints: Each answer has a time limit, which allows for quick assessments, but can induce anxiety in a few students. Kahoot! brings out the competitive side in some students. If you include an image with your question, it does not show with the answer. Kahoot! requires a device to play, which can present budgetary issues in some classrooms.
Keynote
Teachers and students need good presentation software. Whether for introducing a new lesson or sharing findings with classmates,  Keynote is an excellent choice. Keynote is loaded with themes and templates, making it is easy to create elegant and beautiful presentations. It is quick and simple to copy and edit slides. A useful feature of Keynote is the ability to add animations or effects to a presentation. Keynote presentations can easily be exported to other formats including PDF, QuickTime, HTML, and even PowerPoint.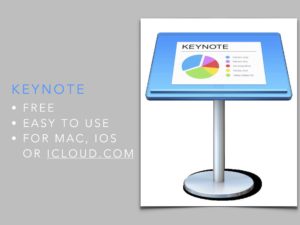 Affordances: Keynote is free. It is available in versions for Mac or iOS or to use on the web at iCloud.com. It is easy to collaborate using any of those versions.
Constraints: Keynote works only on Mac computers and iOS devices, not on PCs. Chromebooks, however, can use the iCloud.com version. Also, presentations created in Keynote can be exported to other formats to be edited or presented elsewhere.
Popplet Lite
Popplet Lite is a free app that is used for representing visual information, such as mind maps, timelines, and more. It can be used for brainstorming, and for making presentations. Popplets are made using bubbles, called popples. Users can change the color of the popples, add text and change the font size, insert images, and even draw in popples.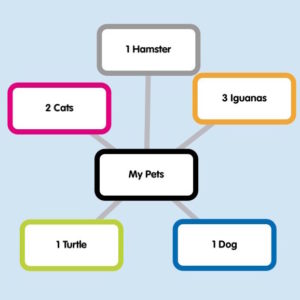 Affordances:  Popplet is easy to use, even for kindergarteners. There are multiple options for exporting Popplets as images. For users who want to create more Popplets, there is a paid app or a web version.
Constraints: With the Lite version of the app, it is possible to create only one Popplet at a time. When using an iPad in multiple classrooms, this can be a challenge. A workaround is to have student groups create their visualizations on the same screen. Because Popplet gives the ability to use two fingers to zoom in and out, multiple student groups can actually use the same Popplet.
ScratchJr
ScratchJr is a block-based programming app, designed especially for students ages five to seven, but it is engaging enough for older students to use, too. Its main purpose is helping students learn computational thinking skills through programming, as they create interactive games and stories. ScratchJr has a helpful website where students can learn independently, and teachers can find additional resources for the classroom.
Affordances:  ScratchJr provides just enough blocks of code for young children to create interesting animations, but keeps it simple enough that they don't get overwhelmed. Children can customize the characters, backgrounds, and items that go into an animation, increasing engagement. Projects can be shared among devices, via email or AirDrop. ScratchJr is free.
Constraints: ScratchJr will run on iPad, Android tablets, or Chromebooks, but there is not a web version yet. All users of a table share a single account, so they all have access to the library of saved projects.
Seesaw
Among Seesaw's many features, is that it is a digital student portfolio, a digital assessment tool, a way for students and teachers to share information with each other, and a tool for communicating with families. Students can record videos, draw pictures, make notes, or take photographs. The teacher can configure Seesaw so that students may comment on other students' work, and so that the teacher moderates posts or comments before they go live.
Affordances:  Seesaw can be downloaded on multiple tablet platforms, or used on the web. Seesaw offers several different methods for students to sign in, and with the built-in QR code reader, it is quick and easy for students to sign in. Seesaw is a safe platform for sharing work, where only first names are visible, and only verified parents can see their children's work.
Constraints: With the free version, each teacher may set up a limit of 10 classes, and only two teachers may collaborate on a single class. Paid versions of Seesaw allow for more classes and more teachers. By sharing Seesaw with other educators, teachers may earn free months of Seesaw Plus.
Twitter
Twitter is a microblogging application that allows users to engage in a personal learning network with educators and others from around the world. By following other teachers and subscribing to relevant hashtags, users can get daily doses of inspiration and insight. Teachers can share updates from their classroom, including links, images, and videos.
Affordances: Twitter can be used on many types of devices, including mobile devices and any other devices connected to Wifi. Users can customize their profile and can customize their experience by muting or blocking other Twitter users, if necessary.
Constraints: Twitter constrains its users to a 140-character limit per text. This can be a real challenge, but forces users to exercise brevity. Users may delete their own tweets, but not the tweets of other people. That can occasionally be an annoyance if the user is mentioned in another user's tweets.
To Do
Microsoft To Do, formerly Wunderlist, is a tool for managing tasks. Like Evernote, I use it daily for managing my own tasks, but it could serve students well, too. It is elegant and minimal, yet powerful. Users can make lists and organize those lists into folders. Each list is comprised of To-do items. Those To-do items can include due dates, reminders, subtasks, notes, files, and comments. The sidebar includes a view of what is due today and this week, as well as a view of all folders. Folders can be expanded or collapsed, and reorganized easily.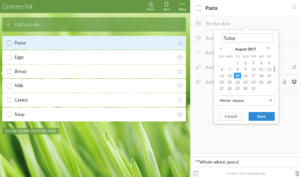 Affordances: To Do can push notifications to a phone or other device, helping users remember upcoming commitments. It has a clean, uncluttered look that is easy to learn and use. To Do is available on multiple platforms, including a web-only version, or Mac or Windows downloads for computers or mobile devices.
Constraints: With the free version, users are limited in the number of To-dos per shared list, and the number of subtasks per To-do. Uploaded file attachments are limited to 5MB in size. For users who want to be able to share more or upload more, there is a Business version.