One of the bigger surprises of my on-campus experience at Michigan State University was learning that my classmates and I would be making a maker faire. With some help, our group of eight students did most of the work: overseeing the logistics, advertising, planning and running all the booths for visitors.
The Maker Movement and Maker Faires
Making is an important part of my teaching practice. You can read more about it in an earlier blog post I wrote. According to the theory of constructivism, when people make something, they build their own knowledge. They construct new knowledge based on prior knowledge, through direct instruction and through inquiry-based learning ("Constructivism," 2016).
This understanding has helped spark the Maker Movement and the relatively recent popularity of maker faires around the world. Maker faires are gatherings that range in size and scope, but often include a combination of hands-on activities and demonstrations.
Our Faire
Our maker faire was small, with four booths run by our eight students. Nevertheless, it was well-received by those who attended. Our visitors were engaged and seemed to struggle productively, learn and have fun.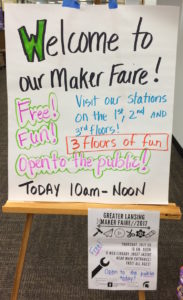 If I were to help plan a maker faire again, I hope we would have more than nine days to plan it. I would include ample signage throughout our event area to help ensure that people could find their way around. As it was, I made a few signs even as the event was getting started.
I would also advertise it as widely as possible. Many people in my cohort shared on social media and in the local news outlets, but more time would allow us to share even more.
Through this event, I learned that it is difficult to keep everyone in the loop when there are eight people involved in planning. When it came to the day of the event, though, it was extremely helpful to have more people pitching in. If I were to do this again, I would request as much community assistance as possible.
Our Booth
My partner Kate Wojtas and I planned and ran a tower building challenge. Participants built a tower of spaghetti and marshmallows, as tall as possible. They had the opportunity to do iterations of their building, and learned about engineering principles, including trusses and cross braces.
If visitors struggled or got stuck, they were ready for teaching by telling (Bransford, Brown, & Cocking (2000). We then asked some guiding questions like, "What can you do to make this more stable, so it doesn't fall?" We also gave a little information about engineering design, if necessary.
I enjoyed celebrating with builders of all ages. One of the most exciting aspects of watching learners at a maker activity was seeing how they are empowered. When faced with a challenge, our participants struggled, prevailed, and learned that they could do it. Even when their tower fell down, we celebrated with, "You tried! You can try again! How can you do it differently this time?"
Make a Maker Activity
You don't have to plan an entire maker faire to engage learners in thought-provoking inquiry-based activities. If you are looking for such an activity for your classroom or maker event, tower building challenges are a great option. Here is a link our brainstorming document and to our plan:

Tower Advice
Plan for participants to spend 15-20 minutes on this activity. This activity is sticky, so have hand wipes available for participants, check the floor regularly for dropped marshmallows, and have a cleaning solvent ready to clean the tables at the end. Also, do not expect to reuse materials between participants because used marshmallows are sticky. Really, really sticky.
Preparation and practice are key! Preparation for this activity reminded me again of the importance of trying out an activity before introducing it to students. Even if you have researched the activity or done it before, practice it again. Try to anticipate learners' questions.
Even after my own preparation and trials, we made a big change to our plan. Some young people tested our activity before we took it to the faire, which was incredibly helpful. Based on that practice, we changed our plan from using straws to using spaghetti. Because spaghetti is brittle, it adds to the challenge and allows participants to easily use different sizes of spaghetti for building.
If you don't have the opportunity to evaluate your challenge with practice participants first, try doing it again from a different perspective. Literally, try sitting in a low chair to see what your event looks like from a young child's perspective.
Finally, be engaged and have fun!
References
Bransford, J. D., Brown, A. L., & Cocking, R. R. (Eds.). (2000). How people learn: Brain, mind, experience, and school: Expanded edition. Washington, DC: National Academy Press.
Constructivism. (2016, September 08). Retrieved from https://www.learning-theories.com/constructivism.html
Images
Unless otherwise captioned, all images and videos in this blog post were created by Sarah Van Loo.